Post by tonib on Jun 4, 2019 23:51:54 GMT
I posted this in the weather thread about Wednesday night:-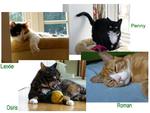 When I went to bed (midnightish) I gave him a fuss & realised he hadn't got his collar on! The collar has a tag for both cat flap & feeder. His & Osiris's microchip are a brand that gives a weaker signal for those devices, the cat flap does work with just the microchip but the feeders aren't so good. Luckily the POD3 tracker told me the Roman (or to be precise the collar) was in wi-fi range of our house. So I used the Loc8tor handset & it sounded when at the front & let me to the collar on the drive 2 doors down. He must have been in a barny with one of the 2 cats in the close or Osiris!
Update:-
On Friday the neighbour 3 doors down came & asked if Roman was Ok as she'd seen her black cat that day with a limp, claw missing/damaged & some fur missing (normally it's me asking her the reverse question!) & on another neighbur's drive there was a mass of cat fur, a mix of white, ginger & black. she thought the fight must have been on thursday evening, although Roman came home with his collar on that night but I hadn't seen the fur on Thursday.
Roman seemed Ok but that night I realised that he had some wounds masked by his collar, which I cleaned up morning & night & kept his collar off overnight. However there was no sign of 2 of them healing & this morning he was scratching one of them. He's already on Metacam for his arthritis so that may well have helped stopping an abscess forming but the scratching was making it raw. So I kept him in with no collar on &got an appointment with the vet this afternoon & he shaved around the worst one.
As Roman was already on a NSAID he couldn't give him steroids, which would be the best thing to stop it itching, until the NSAID was out the system, so we're upping the the dose of Metacam to his full weight for s couple of weeks & he's getting a steroid cream/gel to be used after the cleaning the wound with Hibiscrub twice a day.If no improvement in a week we're to go back (or earlier if it worsens)
(you can see the worst one on the left & in the centre, slighty covered by some white fur, the other big one,)
2019_06_04 P1060171
by
osiriscat
, on Flickr
close up of the worst one
2019_06_04 P1060173
by
osiriscat
, on Flickr
As its just where his collar goes then having a Elizabethan collar on won;t do any good as he'd be able to scratch underneath. One of the inflatable collars might help but the vet would like it exposed to the air.
There's also a scratch on his shoulder where he'd already got a bald spot (healing) which I think was a reaction to his -previous month's flea treatment!
2019_06_04 P1060172
by
osiriscat
, on Flickr
So at least a week of incarceration for Roman. So I'm hoping that the weather doesn't turn really sunny.